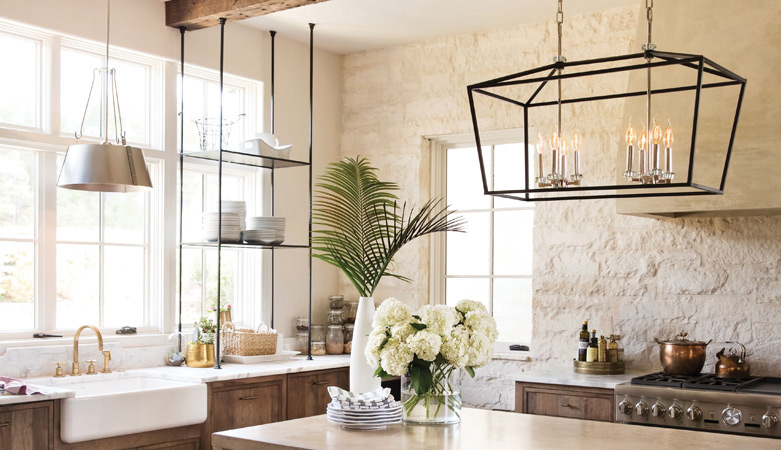 The kitchen is primarily a work area, but it is also a gathering place for family and friends. Utilize lighting that is comfortable as well as functional.
Undercabinet / Undershelf Fixtures offer both task and accent lighting. Design your kitchen to include undercabinet lighting and focus on workspace. In a display cabinet, they show off prized possessions. Use undercabinet lighting such as slim, energy-efficient fluorescents, miniature track lighting, and slim low-voltage mini-lights.
Pendants provide both task and general lighting. The types are standard, incandescent, xenon, halogen indirect or direct lighting with shades or globes to avoid glare. Suspend pendants over dinette tables, game tables, kitchen counters, or other work areas. Use dimmer controls to give you the flexibility to vary the light to suit the occasion. Choose mini pendants in multiples as a design accent and to provide focused light.
Ceiling Lighting – A large ceiling fixture will supply plenty of well-diffused general lighting, but it may leave you working in your own shadow at the sink, range, and countertops. For these areas, use supplemental task lighting. For example, placing two track lights or recessed lighting over the sink will give you the illumination you need for washing dishes and scouring pots and pans.
Recessed lighting if well-placed, offers fantastic task lighting. Use recessed lights over workspaces to deliver lighting that is both beautiful and functional.
Dinettes, nooks, and island counters can be lighted with decorative pendants. Use dimmers to control these ceiling-hung fixtures and provide adequate task lighting for homework, hobbies, or family business. Dimmers also allow you to adjust the light for dining or entertaining.
At the sink and range, an individual recessed downlight, equipped with the correct bulb, will provide adequate task lighting when installed in the ceiling or in soffits over these two busy work areas.
Undercabinet lighting is ideal for countertops. Mount them as close to the front of the cabinets as possible to avoid glare reflecting off work surfaces, such as xenon, halogen, or fluorescent. The size of the fixture will depend upon the light source you select.
Kitchen cabinets can also be accentuated by placing lighting on the tops, under, or inside of cabinets.
Soffits and other concealed locations can also be treated effectively with these various types of lighting. These inconspicuous light fixtures will highlight you cabinetry, while adding a warm, comfortable atmosphere to your kitchen.