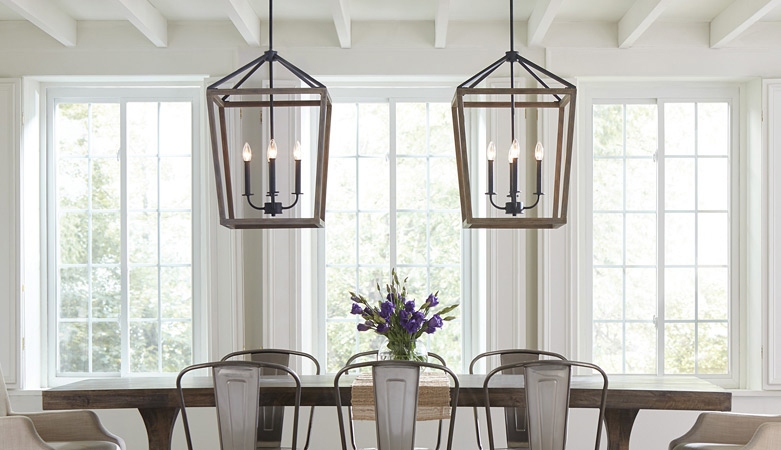 Utilize the following dining room lighting tips to improve your family's living areas. When entertaining, watching television, reading, playing games, accenting artwork, there should be three to four layers of lighting. These might include recessed lighting around the perimeter of the room. Use chandelier or central decorative fixture for general lighting. Consider wall sconces for mood, and portable lamps for reading and other tasks. Use dimmers whenever possible for maximum control of all fixtures.
Dining Room Lighting Tips
Portables – Reading requires task lighting that comes from behind the reader's shoulder. Place a floor lamp either at the right or left of the reading chair. The bottom of the shade should be located at eye level to avoid glare.
Table lamps, floor lamps and torchieres (floor lamps with an uplight component) are available in a variety of styles to complement your interior design.
Chandeliers – Chandeliers add style and a decorative focal point to almost any room in the house. Recent lighting design trends have focused on the value of chandeliers in many spaces throughout the house.
They have traditionally been used in the dining room, but are now commonly used in living rooms and dens.
Add dimmers to allow you to alter the intensity of the light to suit the mood or activity.
Fireplace – Fireplaces made of stone or brick can be emphasized with properly placed recessed downlights installed in the ceiling over the mantle to create an intriguing grazing effect across the surface. Wall sconces can be installed directly on the fireplace and are an attractive addition that draws attention to the fireplace area, while providing general lighting for the living room.
Accent Lights – Add accent lighting to a room and create visual interest. As part of an interior design scheme, it is used to focus interest on houseplants, paintings, sculpture and other prized possessions.
To be effective, accent lighting requires at least three times as much light on the focal point as the general lighting surrounding it. Accent lighting is usually provided by track, recessed or wall-mounted fixtures, such as in this setting to the left.