When it comes to lighting up your home, sometimes it's difficult to decide what kind of illumination is best. Whether you choose gas lights or electric lights, each has its own character and its own set of advantages. If you're stumped, an education on the topic with the friendly team at Carolina Lanterns and Lighting will shed some light.
When it comes to gas versus electric, many people are not aware of the fact that a gas lantern is not necessarily more expensive. The selection of lanterns is vast, and customers will undoubtedly find one to suit any budget. However, internet shoppers should be wary of cheap lanterns for sale online; the quality is subpar, meaning that the BTU – British Thermal Unit – is higher, and more gas is wasted. Th0se cheap lanterns burn more gas per hour, so you've lost your money fairly soon after purchase.
Many people don't realize that even without a natural gas line in their neighborhood, customers can still opt to have gas lanterns, provided they have a propane tank to have gas piped to the lanterns. Also, more people end up loving gas lanterns than one would think.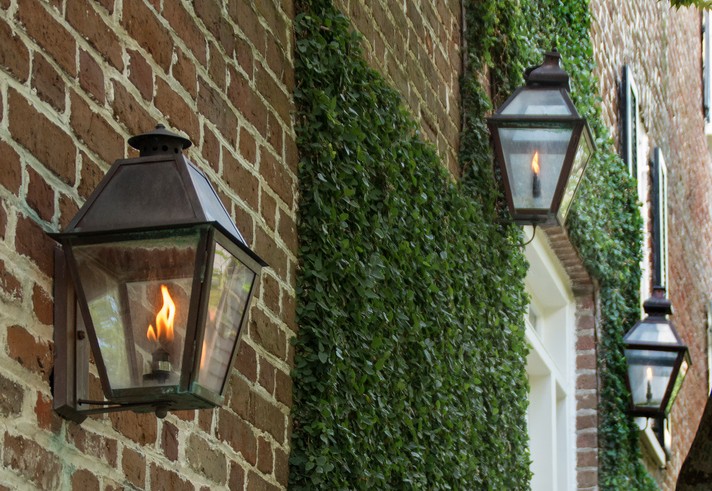 While gas lights are perfect for romantic ambiance and a sense of going back in time, they aren't necessarily the correct choice in all situations. If you need more illumination – such as landscape lighting or enough light to read a book or newspaper – it is best to go with electric lights.
When you pick out a lantern at Carolina Lanterns & Lighting, the staff will help you "build" the perfect lantern, either for electric or gas light. And whether customers want their lantern to have an on/off switch or burn continuously for 24 hours a day, it can be customized to each customer's preferences. The lanterns are all made in the United States, by one of the five coppersmiths from which the Carolina Lanterns team sources their products.
Carolina Lanterns & Lighting does about 70 percent of their business nationally and internationally, and about 30 percent to the local area. We are a household name in the gas and lighting industry.
Carolina Lanterns and Lighting has been serving the Lowcountry's lighting needs for 19 years. To learn more about all of their services and lighting collections offered, visit CarolinaLanterns.com or call (843) 881-4170.
Read this article also on The Post and Courier. Click Here.