Designed by Seth & Tori Bolt, the Bolt Farm Treehouse recently expanded to include a brand new location including four treehouses situated on 30 acres in charming Charleston, South Carolina. The project is intended to be a place that is "the ultimate blend of childhood fun & grown up luxury." The retreats are eco-friendly, adults only, and tech free allowing guests to experience the "magic of timeless fun while being immersed in the beauty of nature and the richness of being surrounded by antique comforts." The designers paid extremely close attention to detail producing artfully crafted spaces both indoors and outdoors with furnishings that are grand and well thought out amenities. Carolina Lanterns & Lighting played a hand in the design on two of the new treehouses in their Charleston location.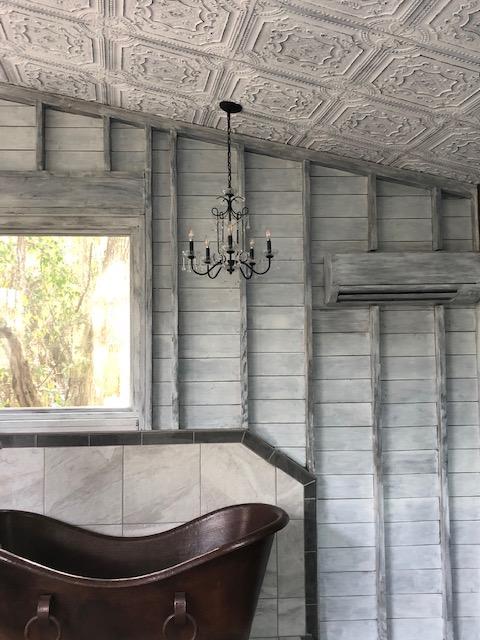 We supplied the gas lanterns for the Honeymoon Treehouse and Charleston Treehouse. We also collaborated on some of the interior lighting as well and were able to outfit the interiors with unique chandeliers and lighting options that really matched and captured the visual aesthetic.
For the Honeymoon Treehouse, we used the Atlas Series Wall Mount and Apollo Series Wall Mount in black finish to adorn the exterior. Both of these lanterns are from our Goddess Collection.
In traditional Charleston fashion, we used the Charleston Series Wall Mount of the Charleston Collection and Vulcan Series Wall Mount in black finish, of the Goddess Collection. It was wonderful to see how seamlessly these lanterns fit into the design of hidden tucked away retreat just as well as they work in a traditional residential neighborhood or commercial space.
Working on this project with the Bolt Farm Treehouse team was fabulous. A few of us here at Carolina Lanterns & Lighting were able to venture out and tour the treehouses and properties in person and were truly amazed. Their story is impressive and they have used their talents to create a one of a kind, magical experience. We are so grateful to have played a role in this project and love seeing how our lanterns can be used on everyday homes as well as unique properties such as the Bolt Farm Treehouse. To book your stay, visit their website.