Welcome to the 2018 Coastal Living Idea House located in picturesque Habersham, South Carolina, a town just a few hours from our Carolina Lanterns showroom.
The team at Coastal Living reached out to us to source some of our lanterns for the space. Pieces from our collection can be found in various areas throughout both the exterior and interior of the home. Front and center, one of our lanterns hangs directly next to the front door. This offers a warm and inviting light on the porch right away for guests to see. Additionally, two unique turquoise lanterns frame a piece of natural, coastal driftwood that serves as a focal point in a coastal sunroom. The room is mainly neutral and natural in color, so the turquoise pieces really pop. Finally, another lantern is perched on the patio door and offers a soft light. The home is situated upon romantic, oak-canopied banks and features an electric spin on the centuries-old traditions.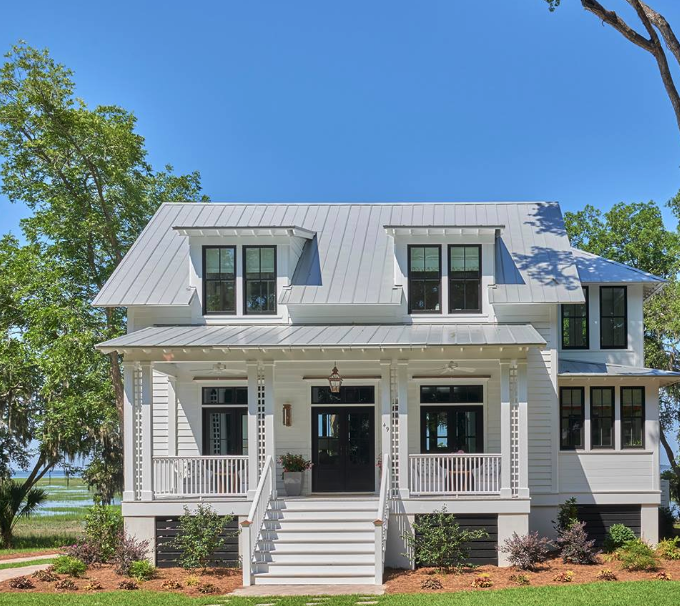 Lanterns Shown: Single House Wall Mount (SH-2001) and Tradd Street Pendant Mount (T-31)
Click the links above to shop!
No front porch is complete without warm, welcoming lanterns. Our lanterns hang next to the front door and offer a guiding light to guests. This dark iron lantern has a stark contrast against the bright crisp white of the exterior of the home.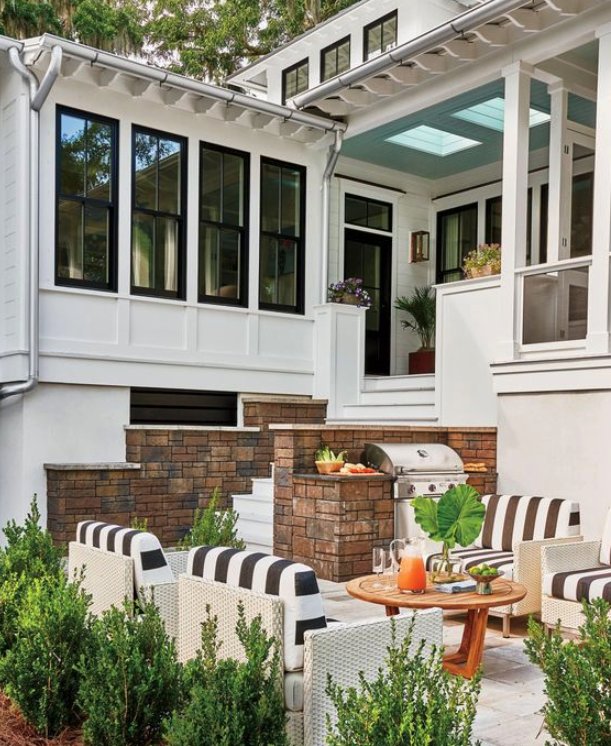 Lantern Shown: Custom Copper Lantern. Call to Order- 1-843-881-4170
One of our lanterns hangs next to the back door on the porch. This offers a soft ambiance that will not only be practical for entering and exiting when entertaining on this stunning patio, but will also be pretty and light up the space.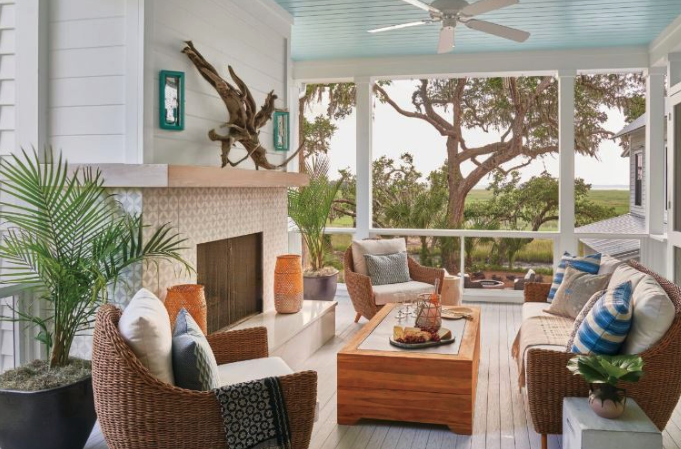 Lantern Shown: Custom Turquoise Lantern. Call to Order- 1-843-881-4170
These turquoise lanterns that hang above the fireplace may be our favorite touch in the home. We picture this sunroom serving as the perfect spot to have a cocktail on a summer night or the perfect cozy spot to snuggle up and read a book or magazine (perhaps, Coastal Living) on a rainy summer afternoon. The turquoise lanterns provide the perfect pop of color and really stand out in the otherwise neutral space. While they provide a perfect pop of color, they still compliment the coastal theme of the space.
If you are interested in any of these lanterns for your home or even a custom piece for your space, shop our entire collection of lanterns here or contact us to design something spectacular.