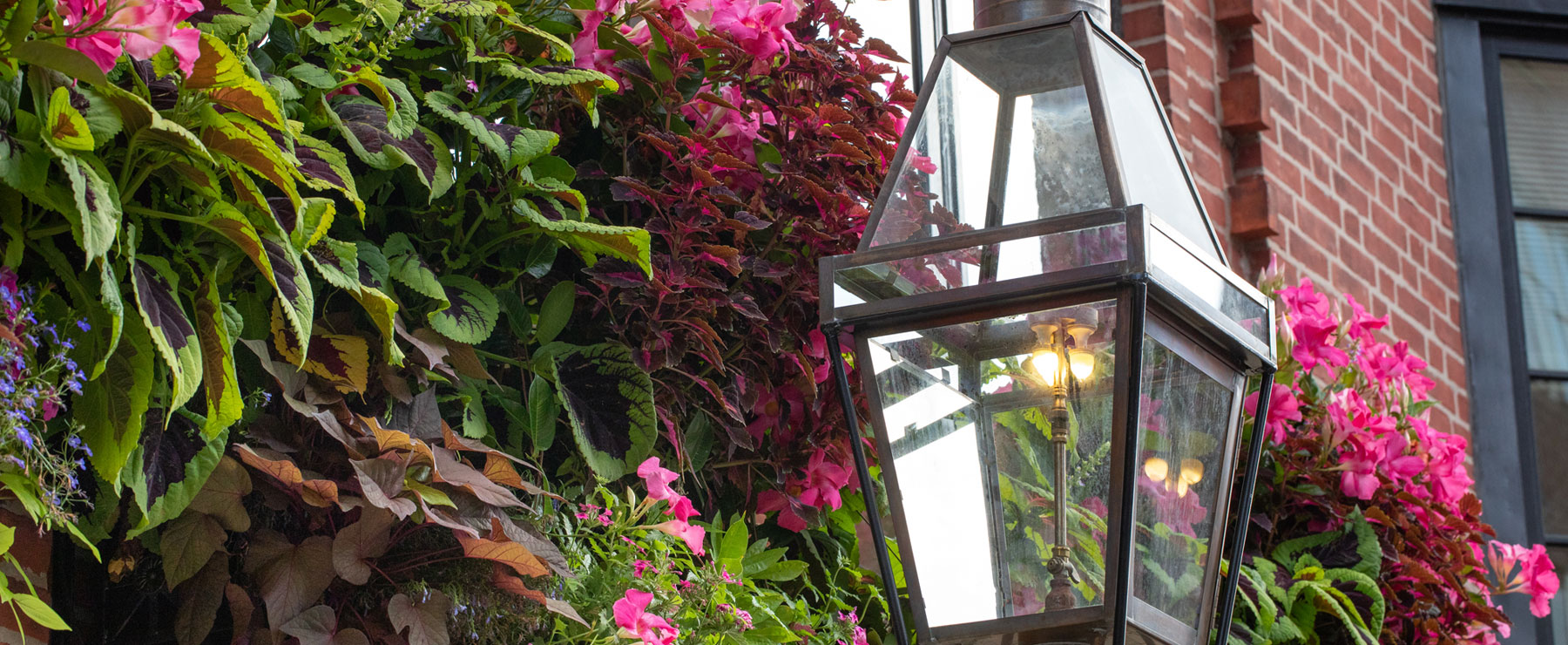 Whether you're searching for a gas lantern or electric lanterns, Carolina Lanterns has a selection of custom and copper lighting that offers you enough options in style to assure you'll find the outdoor light fixture you've been searching for.
When Clouse was building her Mount Pleasant home, she went to a lighting store to see about a pair of gas lanterns for her front door. The somewhat flustered clerk told Clouse the cost would exceed $3,500 – and then turned her back on Clouse in favor of another customer.
That lack of service launched Clouse into search mode. She found someone in upstate South Carolina who had been handcrafting gas lanterns for 20 years. The artisan made a pair of gas lanterns for Clouse.
Clouse realized she knew others who wanted gas lanterns and made arrangements with the upstate artisan to supply them.
The next thing she knew, she was in the lantern business.
She started Carolina Lanterns & Accessories in July of 1999. The business specializes in custom-made copper and brass lanterns and lamps that use propane, natural gas, or electricity and evoke the elegance of historic Charleston. Clouse learned the business inside and out, including the characteristics of liquid propane and natural gas and the way gas lines are installed.
Prices for her products range from $199 and up – a far cry, she points out, from the cost quoted her by that misinformed lighting clerk. "A lantern adds a finishing touch to a home, a building or a neighborhood," says Clouse, whose historically accurate lanterns – many of them named after Charleston streets – adorn such locales. Including: Mount Pleasant's Rivertowne Country Club, Park West residential development, Kiawah Island's Turtle Point Center, the French Quarter Inn, the Anchorage Inn, plus numerous homes not only in Charleston but in Beaufort, Hilton Head and Awendaw.
Clouse considers herself a consultant rather than a mere retailer. "Customers come here, see what we have on display and we work with them in choosing the right lantern for them," says Clouse.
Choosing a lantern is not as simple as choosing a table lamp. It requires a lot of thought and knowledge. Carolina Lanterns specializes in custom-made copper and brass lanterns and lamps that use propane, natural gas, or electricity and evoke the elegance of historic Charleston in any home around the world.
As the president of Carolina Lanterns and the self-proclaimed "Lantern Lady", Jan has transformed her "light bulb gas lantern moment" into one of the area's fastest growing lighting and accessory firms.
The size of the lantern is important. Often, people choose copper lanterns that are too small for the home and thus miss their desired effect. Sometimes lanterns that are inappropriately large for the porch and door area are chosen.
The style of your outdoor lighting fixtures should be complementary to the style of your home. When lantern placement is beside a door, they must not be mounted too high on the wall, losing the value of the light and beauty of the copper gas lantern. Placement of a single copper gas lantern over the door can set the mood for entering guests, however depth from the wall and style of gas lantern are critical. A look of luxury and fine taste is created by placing electric copper lanterns that exactly match the style of outdoor gas lights used in the front of the home in other applications; on the garage or carriage house, at the side door or back porch, around the pool, patio, or garden.
Next to the unique products (or "House Jewelry", as Jan calls them), Carolina Lantern's most important ingredient for success is customer service. They will come to your house, size up the job, come back with a variety of appropriate lanterns and actually hold them up so you can see what they will look like. They will have a replacement usually in two days, and they will come to your home to check on a problem and recommend a solution, even if it's not their installation. But the customer service policy closest to the heart of Jan Clouse would be there is "no job too small."
Mount Pleasant headquarters are at 1362 Chuck Dawley Blvd.
Article was written by the Moultrie News.